Welcome to
Vatican Observatory
Domes in the Papal Gardens
"…to look once more upon the stars"

The Vatican Museums and the Specola Vaticana, the Vatican's astronomical observatory, are pleased to announce the opening of the Specola Vaticana Visitor Center within the Papal Summer Villa Gardens in Castel Gandolfo.

Tours will include access to two historic telescopes, a display of antique and contemporary astronomical equipment, a presentation of astronomically themed artwork, and other special exhibits.
Visitors will be guided by docents knowledgeable in astronomy who have been selected and trained by the scholars of the Vatican Observatory. These tours are available in both Italian and English. Visits will last approximately 60 minutes, and will include the two floors of the observatory building plus visits to the domes of the historic Carte du Ciel telescope (1891) and the Schmidt Telescope (1953), which was the site of St. Pope Paul VI's address to the Apollo astronauts on the Moon in 1969. (Note that visiting the telescopes in their domes requires climbing one flight of stairs.)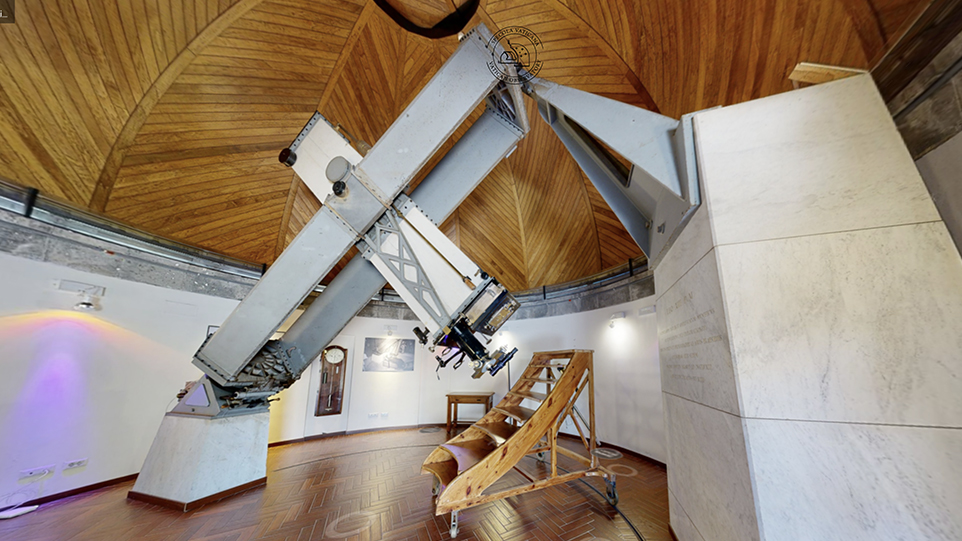 Access is by advanced booking only. Reservations for visits can be booked online at the official website of the Vatican Museums www.museivaticani.va where information on admission fees and available dates can be found.


For more information,
E-mail: accoglienza.villepontificie@scv.va
Phone: +39 06 69863260
A virtual tour through our History...
The Vatican Observatory is pleased to present the virtual tour of the Castel Gandolfo visitor center.
The tour includes a visit to the exhibition inside the Pontifical Villas, featuring the two telescopes located in the garden domes and the two telescopes located in the domes on the top of the Apostolic Palace in Castel Gandolfo.
Vatican Observatory Summer School
Reporting, remedy and redress
How to bring a complaint of abuse against any past or present Jesuit at the Vatican Observatory
The Society of Jesus, which staffs the Vatican Observatory, takes seriously every complaint or accusation with regards one of its members. The mission of the Society of the Jesus is a mission of reconciliation. We welcome everybody. The Society of Jesus, as asked by the General Congregation 36, wants to create a culture of safeguarding, and are committed to the highest standards in our ministry. We try to exclude that anybody runs the risk of being harmed in any of our ministries.
If anyone wishes to bring a complaint of abuse against any past or present Jesuit at the Vatican Observatory, they may contact an external team constituted by the Delegation of the International Jesuits Houses in Rome of the Society of Jesus at the following email address: teamreferente.dir@gmail.com.